Video of Dave Grohl Breaking His Leg And Finishing Concert
Dave Grohl broke his leg in Sweden at a concert.. and played for another 2 hours
Have we ever mentioned how awesome Dave Grohl is? Tonight, at a concert in Gothenburg, Sweden, he once again proved how great he really is. While playing just his second song of the evening, 1997's hit Monkey Wrench, Dave misstepped and fell off the stage. Unfortunately, he broke his leg during the process. A few moments later, Grohl confirmed to the crowd the bad news: "I think I just broke my leg. I think I really broke my leg"
The medics carried Dave Growl away and the rest of Foo Fighters joined him backstage. Soon after, the band came back to play a few songs without Dave. It didn't take long for the medics to bring Grohl back where he joined the band by sitting on a chair and finishing a two hour set! They took a brief break for Dave to get a cast added to his broken leg.
The band posted an X-ray of Dave's broken leg on their Twitter account.
Here it is ladies and gentlement, a historic rock picture in the making. Don't worry, he's not screaming in pain, he's just rocking out.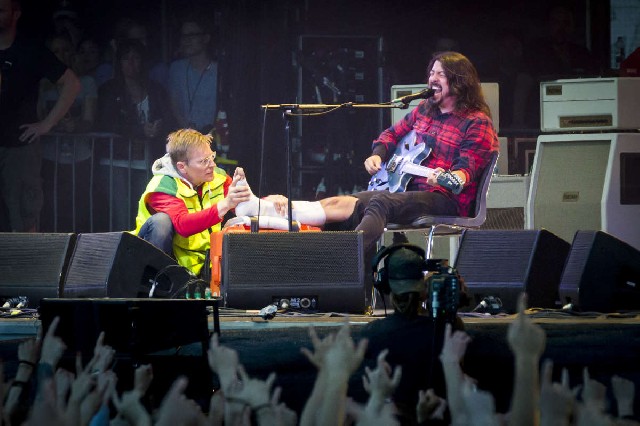 UPDATE: Here's the video of him coming back